Mobile News
Realme GT Neo 5 is the world's first phone with 240W charging
Realme, which claims to be the "world's fastest growing smartphone brand," has unveiled the GT Neo 5 with 240W ultra-fast charging, which is the fastest ever on any phone.
Previous developments by other companies include the 210W Redmi Note 12 Discovery Edition and last year's 150W OnePlus 10T.
If you think you've heard 240W before, you're right. Oppo first showed off 240W SuperVooc charging at MWC 2022 almost a year ago, saying it can charge a 4,500mAh battery in just nine minutes. However, phones with this technology have not yet gone on sale.
Realme has surpassed its BBK Electronics-owned sister brand Oppo and says it will be the first company to mass-produce a 240W device, albeit with the caveat that it will only be sold in mainland China.
The company says the GT Neo 5 can give you two hours of uninterrupted phone calls with just 30 seconds of charging.
Innovation in the industry is not limited to the breakneck speed of 240W. The phone also comes with the first dedicated 12A cable and the world's first dual GaN (gallium nitride) 240W mini charger.
According to GSMArea, the GT Neo 5 can charge up to 20% in 80 seconds, up to 50% in 4 minutes, and up to 100% in less than 10 minutes. The battery has a capacity of 4600 mAh, but there is also a version with a larger 5000 mAh battery and slower 150W charging.
It also claims to retain 80% battery capacity after 1,600 charge cycles, which Realme says is double the industry standard. "The certification also includes more than 60 levels of protection to ensure a safe and healthy charging system," the company said.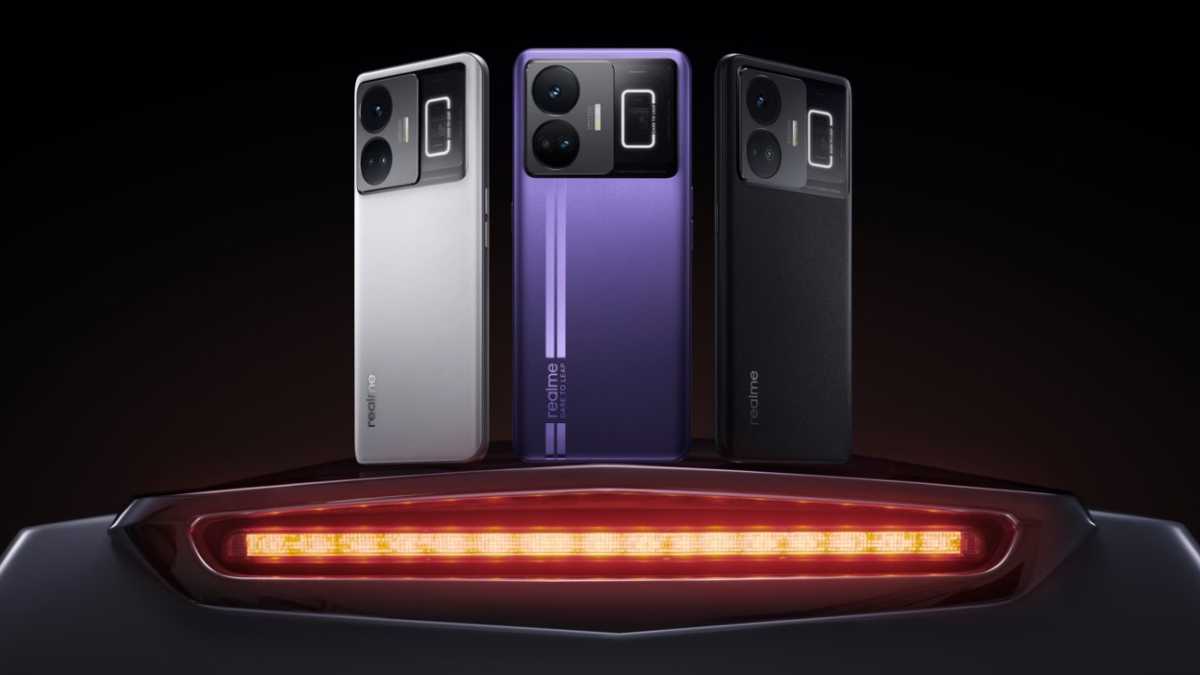 The real me
Charging specs aside, the GT Neo 5 has a striking design, literally. A rectangular flashing RGB light is on the back as part of the camera module. It can act as a notification indicator and is configurable for different applications and will glow red when the battery level reaches 20%.
The phone is available in three colors – white, black, and purple – with a fourth transparent casing, which means you can see "a metal plate for the chipset with a custom logo design, part of the motherboard, an NFC sensor, and an RGB lighting C-ring."
It features a 6.74-inch 144Hz OLED display, last year's flagship Qualcomm Snapdragon 8 Plus Gen 1 chipset, and a 50MP primary camera.
The phone can be bought immediately in mainland China starting at CNY 3,199 (about $470 / £390) for the 16/256GB model.
If you're outside of China, don't worry because Realme has confirmed that its 240W charging will hit global markets thanks to the flagship GT3. This phone will be unveiled later this month, presumably at MWC starting February 27 in Barcelona.
Related reading:
Source link