VPN stands for Virtual Private Network. But it's not the complicated name that matters, it's what a VPN can do for you.
Most people use a VPN to get an extra layer of online privacy. This is where privacy comes in. When a VPN is enabled on your phone, tablet, or laptop, it can help prevent people from seeing what you are doing while using the Internet. For example, your ISP can't slow down your connection based on your activity, and it also means they can't sell your data to third parties that might target you with annoying ads. Not all ISPs sell data this way, but using a VPN means those who do can't sell yours.
Another reason to use a VPN is security. Because they encrypt your internet connection, you get an extra layer of security and privacy. This is valuable when you're connected to free Wi-Fi at cafes, hotels, airports, and malls, which is often unencrypted because there's no password.
A common misconception is that a VPN makes you anonymous online. To some extent this is true, but what you do online can reveal your identity. For example, when you log into a website with your username and password, that website can know exactly who you are, even if you are using a VPN.
However, one of the most popular uses of a VPN has nothing to do with privacy, anonymity, or security. In fact, to make it seem like you are in another country. VPN services have servers in different countries, and when you connect through them, websites and streaming services in particular think you are in that country. This means you can watch services that aren't available in your country, or access videos—on Netflix, say—that are available in other regions but not in yours.
PROMOTION
Top Selling VPN Deal: 82% Off
For just one Surfshark subscription, which costs just $2.49 (£1.89) per month, you can protect your safety and that of your family online. Work on the open web while maintaining your digital life. Get two months of free Surfshark by purchasing it today!
How to find the right VPN for your needs
Whatever you need a VPN for, it's very easy to use. And they are also very affordable, usually costing only a few dollars or pounds a month.
But before you head to your device's app store and install a VPN, you first need to choose which one to use. They're not all the same, and price alone doesn't tell you how good they are.
For a detailed buying guide, check out our roundup of the best VPNs, but if you're in a hurry, here are three we recommend:
When registering on the provider's website, you will find a choice of subscription duration. In most cases, the longer you go, the cheaper the monthly cost becomes. However, you will be paying for the entire subscription all at once, not monthly.
How to install and set up a VPN
After paying for the selected subscription and creating an account with the service, install the application on your device. You can do this by searching the app store on your phone, or by downloading it from the service's website and then installing it from the file you just downloaded.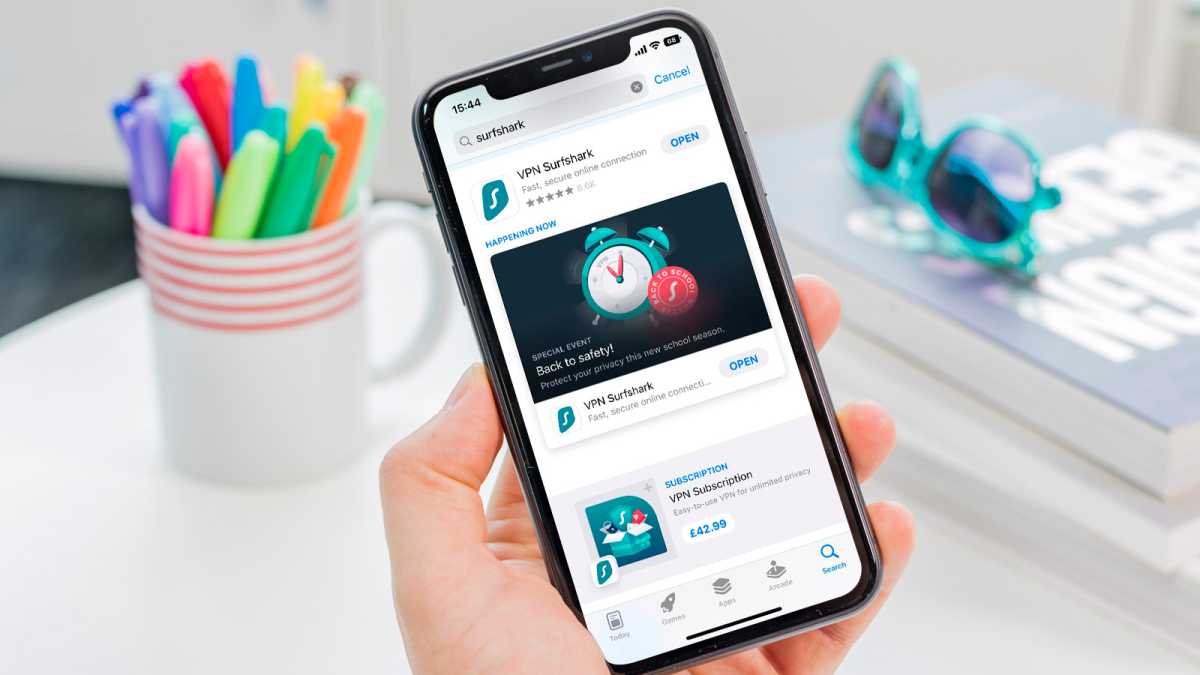 Dominik Tomaszewski / Foundry
Once installed, launch the app and enter your username (usually an email address) and the password you chose when you signed up.
Some VPNs instead give you an activation code and you enter it instead of a username and password.
The first time you try to connect to the VPN, you will see a message asking permission to configure the VPN. Click "Allow" or similar and after a few seconds you should be connected to the VPN server.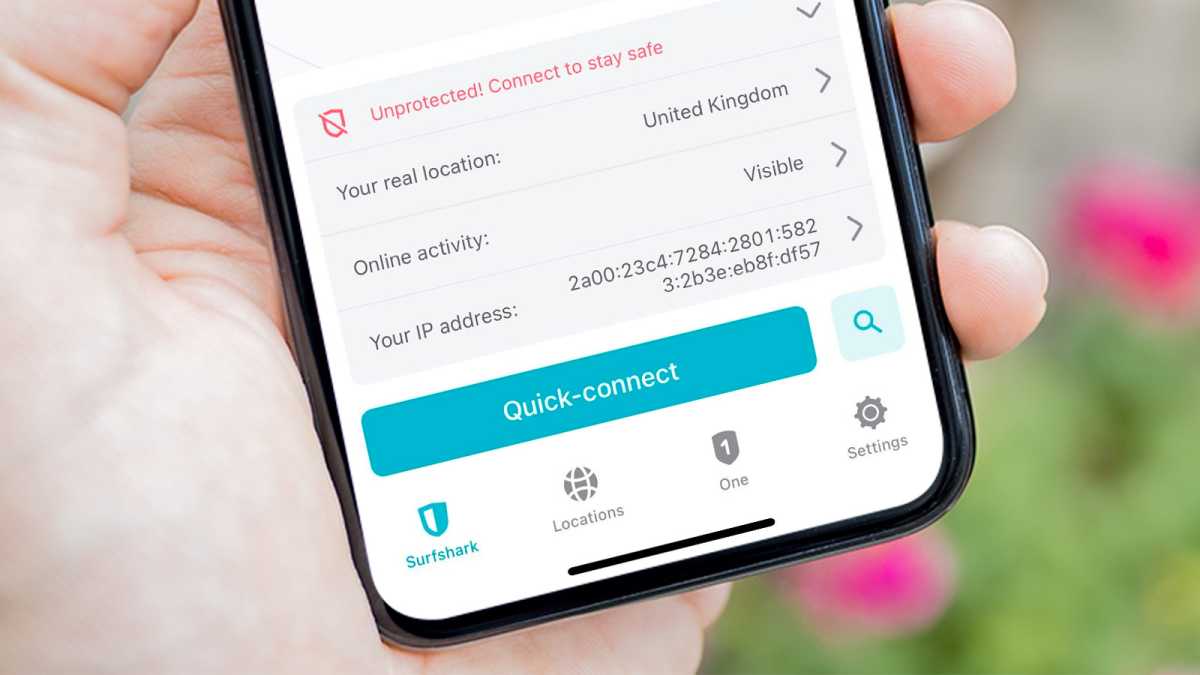 Dominik Tomaszewski / Foundry
That's all you need to do – you now have the privacy and security benefits that a VPN offers.
How to use a VPN
We've already covered the absolute basics: it's really as easy as opening the VPN app and hitting the connect button.
But this usually automatically selects a server – either the one closest to you or the one that offers the fastest connection.
If you want to change your location to unblock the video service, look for a list of countries or servers. For example, if you are in the UK and want to watch Peacock, you need to connect to a US VPN server. To watch BBC iPlayer you need to connect to a UK server.
Of course, you must have an active subscription to the service you want to watch: a VPN only changes your location. This does not make Netflix, Disney+ or any other service free to watch!
Tip: Not all VPN services can unblock all streaming services. All of the services we recommend do a good job of unblocking popular streaming platforms.
Streaming services and VPNs play a cat and mouse game of blocking and unblocking, so things can change from day to day. That's why choosing a VPN service with 24/7 online chat is a good idea: if you can't watch something, you can ask for a solution in the chat window.
Below we use NordVPN on Windows, but even if your VPN looks a little different, finding a list of countries (or servers) should be easy.
Find or scroll to the one you want, click or click on it, and possibly also click on the connect button if it doesn't connect automatically. Don't wait until you get confirmation that you're connected. This usually only takes a few seconds.
The location of the server you connect to becomes your new virtual location, meaning websites, video streaming services, and any other online service will think you are there. Therefore, the choice of server will depend on what you want to use the VPN for.
There is no need to constantly use a VPN. You can turn it on when you need to unlock something or provide extra privacy while browsing the web.
When you're done doing what you're doing, you can click the "Disconnect" button to return to your normal internet connection without a VPN.
How to check if a VPN is working
If you want to see proof that the VPN is working correctly and prove that your real location cannot be discovered, you can use a website like IPleak.net. This will tell you what your virtual IP address (and location) is.
So, visit the site before connecting to a VPN and check out the details. It should show your country and may even display the name of your ISP.
Now connect to a VPN server in another country and visit the site again. You should now see that your IP address locates you in the country of your chosen server, just like the DNS address. If you still see your own country displayed for either an IP address or a DNS address, that's a problem. If not, the VPN is working properly.
How to enable kill switch in VPN
Many VPN services have a kill switch that will stop any data being sent over your internet connection if the VPN connection drops unexpectedly. This helps protect your privacy by ensuring your real location is never "leaked".
Often you need to go into your VPN app's settings to enable the kill switch as it is not enabled by default. The kill switch may not be available in all apps offered by the VPN provider. Some, like the NordVPN iOS app, don't show the kill switch because it's always on and you can't turn it off.
It needs to be enabled in the Surfshark app. Just be aware that if the kill switch trips, it will stop all internet activity (to protect you). But there may not be a notification that this has happened and you wonder why your phone has actually stopped working. Disable the kill switch to reconnect, or simply disconnect and reconnect to the VPN.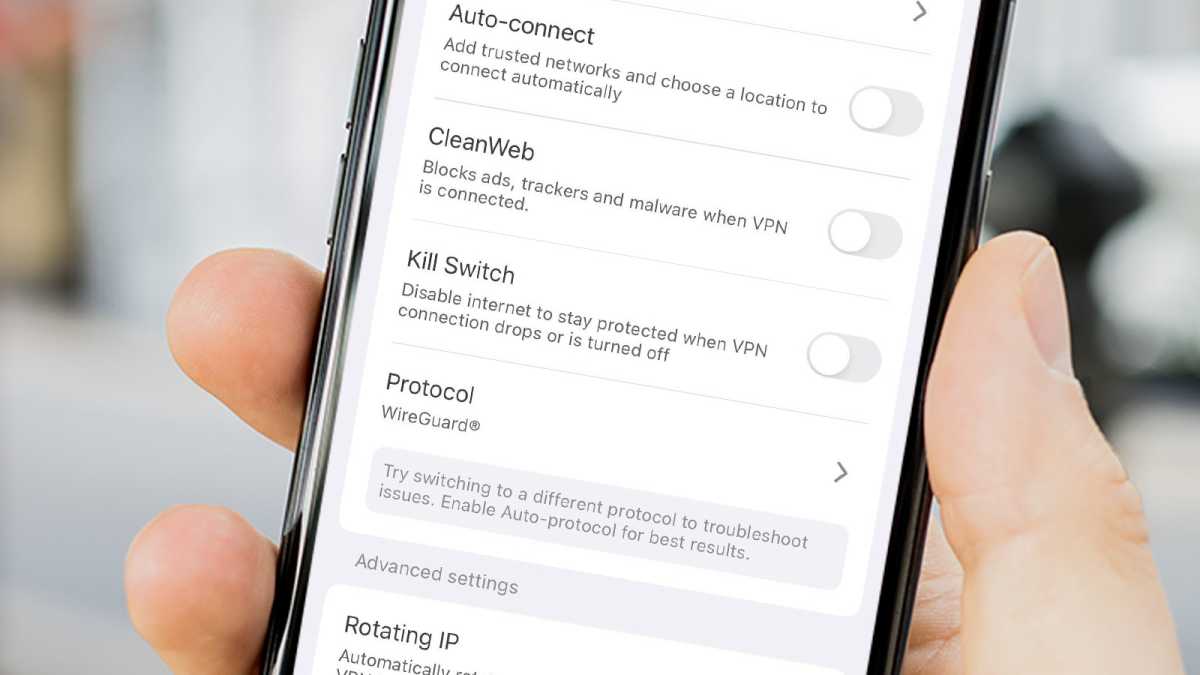 Dominik Tomaszewski / Foundry
If available, you may prefer to use "App Kill Switch". This is an option that Nord (among other things) offers in some of their applications, specifically on Windows. This allows you to choose which apps should have their internet connection disabled if the VPN stops working and leaves all others running as normal.
A similar feature called split tunneling lets you choose which apps will use the VPN connection and all others will use the regular one.
There are other options, but that's all you need to do: using a VPN is very simple.
The only other setting you might want to make is to force the VPN to automatically connect if your device connects to an unknown Wi-Fi network. This ensures that you don't forget to turn on the protection that the VPN offers.
What is the difference between free and paid VPNs?
There are many VPN services available, and some of them are completely free to use.
Depending on why you want to use a VPN, a free VPN might be fine, but for most people they are too limited because they offer a tiny selection of servers (and maybe not in the countries you need) and only give you a small amount of data. a resolution that is rarely sufficient for video streaming.
On rare occasions, a free VPN service may sell your email address and browsing habits to cover the costs of your use of its service, which defeats the purpose of using a VPN for some people.
You can check out our recommendations for the best free VPNs.
Paid VPNs typically offer hundreds or thousands of servers around the world and give you unlimited data so you can stream as many videos as you want. And that's why most people pay for a VPN.
How to choose a VPN
VPNs are built on trust, so it's important to choose one that is trustworthy. Almost all services these days claim to keep no logs of your activity – such as when you've used the service, your IP address, and other data – but as a user, you can't check if that's true or not. You must take their word for it.
That's why you should read our VPN reviews, but you can also find the provider's privacy policy on their website. If the site has very little information about where the company's headquarters is located, who runs it, and is usually anonymous, this is usually a bad sign.
Some hire third parties to test their policies to "prove" they are keeping their word – we mention this in our reviews.
There is also the VPN Trust Initiative, created by several companies that want to raise the minimum standards for VPN services and, in the process, increase people's trust in their services.
In addition to these aspects, you should consider whether the provider offers apps for the devices you want to use the VPN on – Android, iOS, Windows, Mac, etc. – and whether they have servers in the countries you need.
All VPNs will affect the speed of your internet connection, but this should not be noticeable for the fastest services, especially if they support the new WireGuard protocol.
Recommended VPNs Tech Advisor
We've been testing VPNs for years and we've ranked and ranked the best ones here:
Related articles for further reading
All security news
The Best Antivirus Software for Windows (Plus Free Options)
Best Antivirus Deals
How to hide your IP address
How to speed up a VPN
Best VPN Deals
Personal software, security, VPN
Source link