At a glance
Expert rating
pros
Excellent Wi-Fi speeds
Supports 160 MHz channels.
Two gigabit LAN ports
Easy setup
Minuses
May be overkill for some households
Doesn't have many advanced settings
LAN cable not included
Our verdict
The Devolo Repeater 5400 can extend the Wi-Fi coverage of a powerful Wi-Fi 6 router at very decent speeds. It also has many features and is easy to set up. This is a great choice if you have such a router and need fast Wi-Fi where your router is currently not working.
While many Wi-Fi extenders plug directly into a wall outlet, the Devolo WiFi 6 Repeater 5400 is more like a traditional router in size and comes with an 18W power supply in the box, allowing it to be placed away from a wall outlet.
Its maximum (theoretical) Wi-Fi speed is 4804 Mbps at 5 GHz and 574 Mbps at 2.4 GHz thanks to four MIMO streams at 5 GHz and two streams at 2.4 GHz.
Wired devices such as a Smart TV, Sky box, game console or computer can be connected via the two Gigabit Ethernet LAN ports on the rear panel.
You can also use the Devolo repeater as an access point by connecting it to the Ethernet socket and using a wired connection to your main router. However, Devolo does not include a LAN cable.
Easy setup
WiFi 6 Repeater 5400 is easy to set up. You can either use the Add button on the back, which starts a WPS connection, or use Devolo's Home Network app or the repeater's browser interface.
When setting up without WPS, you must first connect your computer or smartphone to the unencrypted Wi-Fi of the extender. Oddly, access to the menu is not password protected, and the repeater does not offer to set one.
The app gives you tips on how best to place the extender so it's not too close or too far from your existing router. You can use the reset button to reset the repeater to factory settings if you want to connect it to another router later.
Four LEDs on the front panel indicate the signal strength and the quality of the Wi-Fi connection.
Performance
To get the most out of the Devolo WiFi 6 Repeater 5400 and make use of its 5GHz speed band, you will need a high-end router as a partner.
To check we used Fritzbox 6690 cable, which also transmits four MIMO streams at 5 GHz with a 160 MHz channel bandwidth. We placed the repeater halfway between the router and a laptop with Wi-Fi 6, which was located 20 meters from the Fritzbox.
We were really impressed with the WiFi 6 Repeater 5400's performance. The average data rate of 450 Mbps (just over 56 Mbps) is great, and this is partly because the 5400 can use "cross-band repeating". This means that instead of using the same 2.4GHz or 5GHz band to send and receive (which lowers the maximum speed possible), crossband uses one band, say 2.4GHz, to communicate with router and 5 GHz to communicate with the device (laptop). in our case) without loss of speed.
However, the Repeater 5400 can use the same band if needed, and if it's 5GHz you should still see the same fast results.
Using the 5400 Repeater as an Access Point
Devolo Repeater 5400 is even faster as an access point. When connected to a router via an Ethernet cable, the transfer speed between the laptop and the Fritzbox was just over 900 Mbps. And this despite the fact that the laptop is located about 10 m from the repeater. This is close to the bandwidth of a gigabit network connection. And again, impressive stuff.
You can connect the Wi-Fi 6 repeater with an Ethernet cable to your router and then change the settings to "Access Point Mode". The repeater receives the data signal over the LAN cable, not over unstable Wi-Fi.
If there's one criticism, it's that the 5400's autochannel feature requires some fine tuning. In hotspot mode, the repeater initially connected the laptop at 2.4GHz, while other repeaters we tested immediately offered the client a more reasonable 5GHz connection.
Only after rebooting the laptop did the 5400 switch to the 5GHz frequency and select the optimal channel there.
If you select hotspot mode, you will get some advanced options such as guest network, Wi-Fi scheduling, as well as some parental control features.
Power consumption
Power consumption is between a typical plug-in repeater and a tri-band repeater. Without active WLAN transmission, it consumes about 6.6 watts, and with data transfer it consumes more than 8 watts.
The guest Wi-Fi network can be encrypted using WPA2, WPA3, or hybrid mode with both methods, and it can be turned off after a set period of time.
Using the schedule, you define the days and times when Wi-Fi should be turned on or off. You can also set this for individual devices using parental controls, and here you have to enter the MAC address of the device in the menu.
In addition, the repeater shows a list of neighboring networks, including radio channel and signal strength, but only as a symbol. The event log can be saved, but not called up in the menu. In fact, there is more than enough here if your requirements are relatively simple, but advanced users may wish for more customization.
It's also worth noting that the WiFi 6 Repeater 5400 can be part of a mesh network and support features like band and hotspot control to always be able to offer Wi-Fi devices the best radio signal. However, this only works in combination with other Devolo adapters such as the Magic 2 Wi-Fi Powerline Mesh kit and other 5400 repeaters.
Devolo's Magic WiFi adapters and WiFi 6 repeaters use the same software platform (Devolo OS). So both support the same Wi-Fi features (AP control, client control, airtime fairness, band control, etc.) and can work together seamlessly. If you have a Magic WiFi kit running at home, you can integrate the Devolo WiFi Repeater into your home network. The repeater will receive the Magic WiFi signal and distribute it.
Check out our recommended best Mesh WiFi kits.
Do I need a WiFi 6 router to use a WiFi 6 repeater?
A Wi-Fi repeater will increase the speed you get from your router. Obviously you get faster speeds when using a WiFi 6 router, but it will also extend the WiFi 5 router's WiFi signal.
The WiFi 5 router will also benefit from a larger WiFi range and will use all WiFi 6 enhancements (bidirectional MU-MIMO, OFDMA, TWT, BSS coloring).
And in the special case of the 5400, the user benefits from a massive antenna configuration (2×2 at 2.4GHz + 4×4 at 5GHz).
If you want to buy a repeater and have the budget for it, you should buy a Wi-Fi 6 repeater because it is future-proof in terms of speed and features.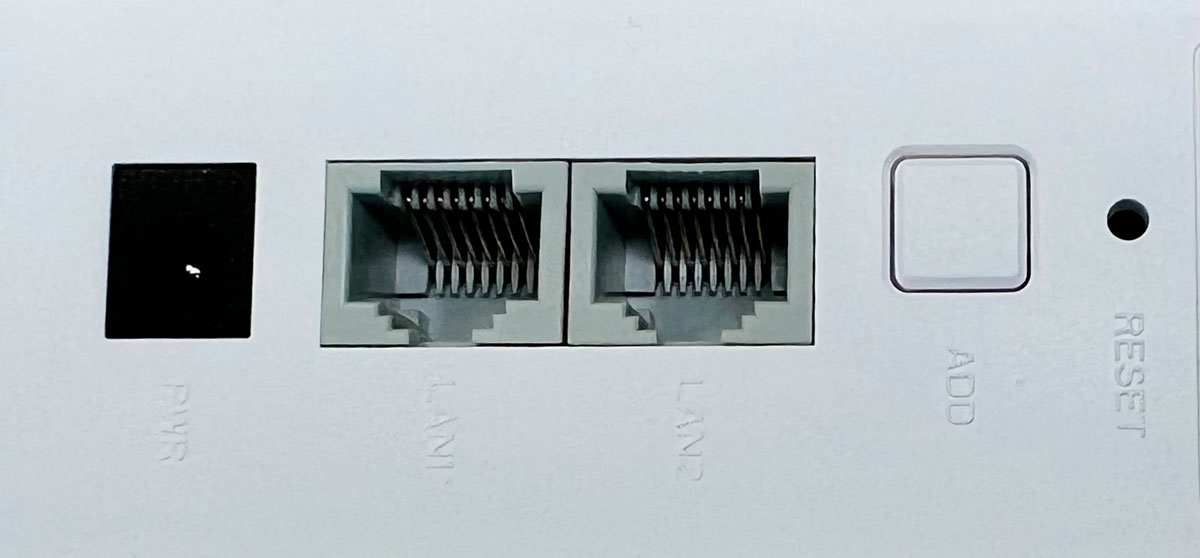 IDG
Price and availability
The Devolo WiFi 6 Repeater 5400 has a MSRP of £129.99. You can find it cheaper in retail stores such as Amazon And Box.
Although Devolo sells some of its products in the US, you could not get the Repeater 5400 at the time of review.
Devolo also sells a stripped down model (Suggested retail price: £89.99). Devolo WiFi 6 Repeater 3000which, as its name suggests, offers a top speed of 3000 Mbps, not 5400 Mbps, and only has one Ethernet port compared to two.
For alternatives, see our roundup of the best Wi-Fi extenders.
Verdict
Devolo WiFi 6 Repeater 5400 is a powerful WiFi extender that delivers impressive performance when paired with an appropriate router and WiFi devices such as phones and laptops.
It will work with routers without WiFi 6, but the speed will not be as fast. However, buying a WiFi 6 repeater now makes sense in terms of the future. You will end up with a faster router, so make sure you have a compatible repeater ready.
If you already have a router and Wi-Fi 6 capable devices and want to stream 4K video or need a fast connection for other reasons, the Devolo WiFi 6 Repeater 5400 is worth the extra money compared to cheaper, less capable Wi-Fi extenders . .
Source link