Mobile News
Apple Watch Ultra: Everything you need to know about the "protected" Apple Watch
Apple has released a brand new Apple Watch called the Ultra. The $799 / £849 smartwatch is designed for outdoor activities that are more extreme than the standard Apple Watch.
The case is made of titanium and rises up to surround a completely flat screen made of sapphire crystal (like on iPhone cameras). This should help protect the Watch Ultra's screen from damage while climbing.
The 49mm (1.93-inch) display is twice as bright as any previous Apple wearable and boasts 2,000 nits of brightness. This should help you see which direction to go in even the brightest conditions.
In addition, there is a new orange button – the action button. It does (almost) everything you want. For example, you can click it to add a waypoint on your route so you can find your way back later.
There is a dual-frequency GPS that supports L1 and L5 frequencies. Along with new positioning algorithms, it's the most accurate GPS on the Apple Watch. But if you do get lost or run into serious trouble, there is an 86 dB siren that can alert rescuers to your location.
The crown and side pusher have been redesigned to be more visible and can be used with gloves. Speaking of gloves, the Ultra is tested to work in temperatures ranging from -4°F (-20°C) to 131°F (55°C). It's also certified to military standards for things like low pressure (altitude), temperature shock, fluid contamination, humidity, sand and dust, freeze/thaw, freezing rain, and shock and vibration.
Apple
Apple added a second speaker for louder audio and three microphones so those you call can hear you better.
You can call, because all ultras have a built-in cellular connection. However, rumor has it that there is no satellite connection, so you still need to be close enough to civilization to get a phone signal.
One rumor that turned out to be true is that the Ultra has a larger battery than a standard Apple Watch, which can provide up to 36 hours of "normal" use. But if you can't charge it for longer, there's a power saving mode that extends that time to 60 hours with low-frequency GPS updates and heart rate readings.
The Wayfinder face is designed to take advantage of the big screen. The dial has a built-in compass, as well as room for eight complications. It also has a night mode that turns the display red to make it easier to read faces in the dark. It is activated by simply turning the crown.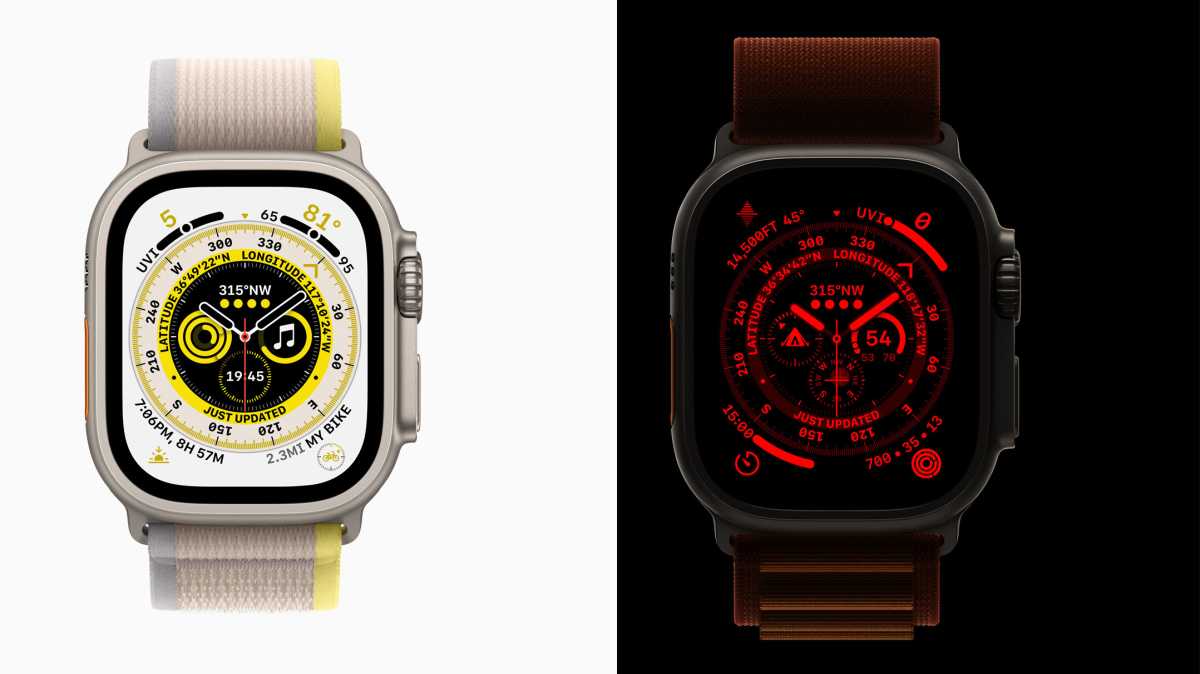 Apple
Apple says you can wear your Ultra watch for "recreational diving," which means diving up to 40m/130ft. It also features a new depth gauge that works with the new Depth app and displays current depth, water temperature, length of time underwater, and maximum depth reached.
It also has all the usual Apple Watch features, including ECG and blood oxygen monitoring, as well as the new body temperature sensor found on the Series 8, which is designed to track women's cycles more accurately, as well as motion sensors to detect when you've been hit. in a car accident (and automatically calls emergency services for you). Computing power is provided by the same chip as in the Series 8.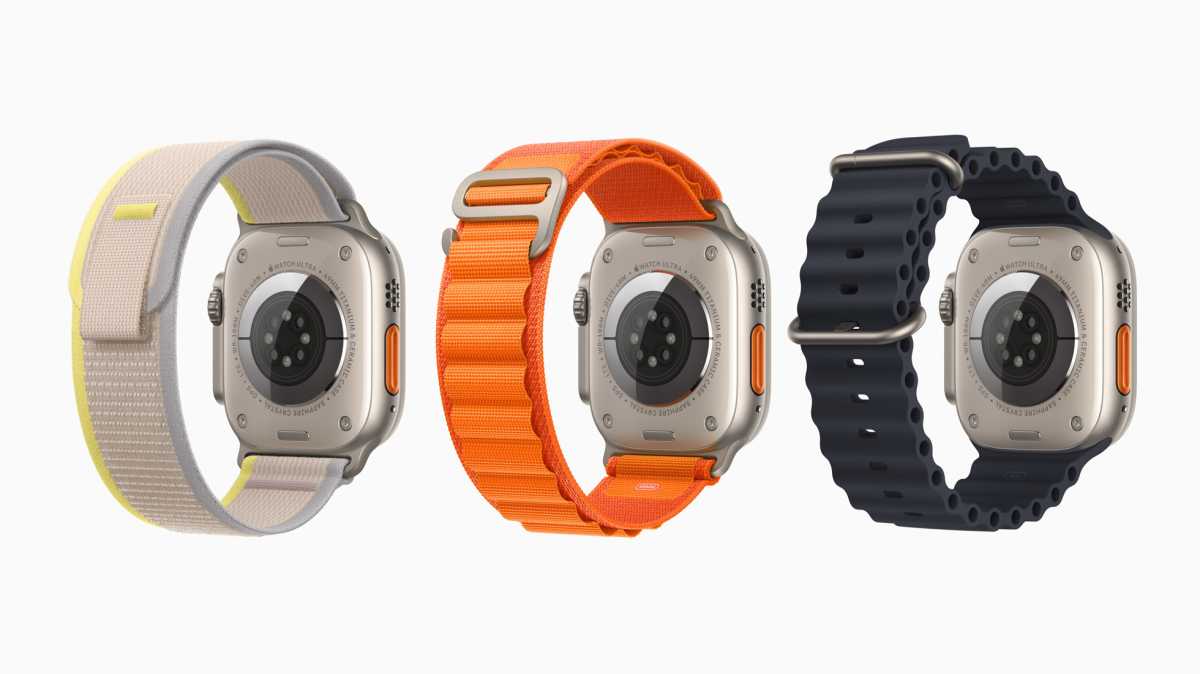 Apple
The Watch Ultra runs watchOS 9, which includes a redesigned compass app with three views. One is a hybrid that shows an analog and digital compass, but another shows your latitude, longitude, altitude, and tilt, and the third is a "orientation view" that shows waypoints and your way back.
The latter uses GPS to track your route to your current position, so you can return the way you came if you get lost.
Apple Watch Ultra release date
You can pre-order the Ultra right now and it goes on sale September 23rd.
It is available in Australia, Canada, France, Germany, India, Japan, UAE, UK, USA and 40 other countries.
In the US it's $799, but UK buyers will pay £849.
Similar stories
Source link