Mobile News
Amazon's own-brand TVs will go on sale in the UK in April
In September 2021, Amazon launched two lines of its own branded TVs in the US and Canada, offering an all-in-one with Alexa and Fire TV.
The company is now launching the 4-Series and Omni QLED in the UK and Germany. But that's not all, Amazon is also throwing in an even cheaper range that throws in a few smaller screen sizes to provide options no matter what your room size or budget is.
Amazon Fire TV Series 2
The new entry-level 2 Series comes in 32-inch and 40-inch screen sizes, with the smaller one priced at £249.99. It is 720p and the 40-inch offers a 1080p (Full HD) panel for £299.99. Otherwise, the TVs have the same features as the larger 4 Series models, including built-in Alexa and support for HDR10, HLG and Dolby Digital Audio.
The Fire TV interface is very similar to what you get on the Fire TV Stick and gives you access to Amazon Prime Video, BBC iPlayer, Netflix and more streaming services.
As a TV, you also get a built-in Freeview Play tuner for watching live TV.
2nd series available for pre-order from amazon immediately. Officially, the TVs will go on sale on April 12.
Fire TV series 4
Jim Martin / Foundry
The 4 Series has options for larger screen sizes: 43, 50 and 55 inches. They are all 4K and support HDR10, HLG and Dolby Digital Plus.
Again, you use Alexa via the included Voice Remote and get the full Fire TV interface plus Freeview Play built-in for live TV.
The 43-inch model is £429.99, the 50-inch is £499.99 and the 55-inch is £549.99. You can pre-order 4-Series on Amazon right now.
Fire TV Omni QLED
As in the US and Canada, Omni QLED is the flagship model. It comes in 43, 50, 55 and 65 inches and from £549.99. Unlike the US, there is no 75-inch option here.
Omni TVs have a 4K QLED panel for better picture quality (and HDR10+ support), a more premium finish with a metal frame and stand, and some extra features.
One of them is the hands-free Alexa, thanks to the same "far-field" microphones found in the Amazon Echo. But there is also a touch panel with light and presence sensors.
They do several things. First, they allow Omni QLED TVs to support Dolby Vision IQ and HDR10+ Adaptive, which means brightness and picture quality adjusts based on the lighting conditions in your room.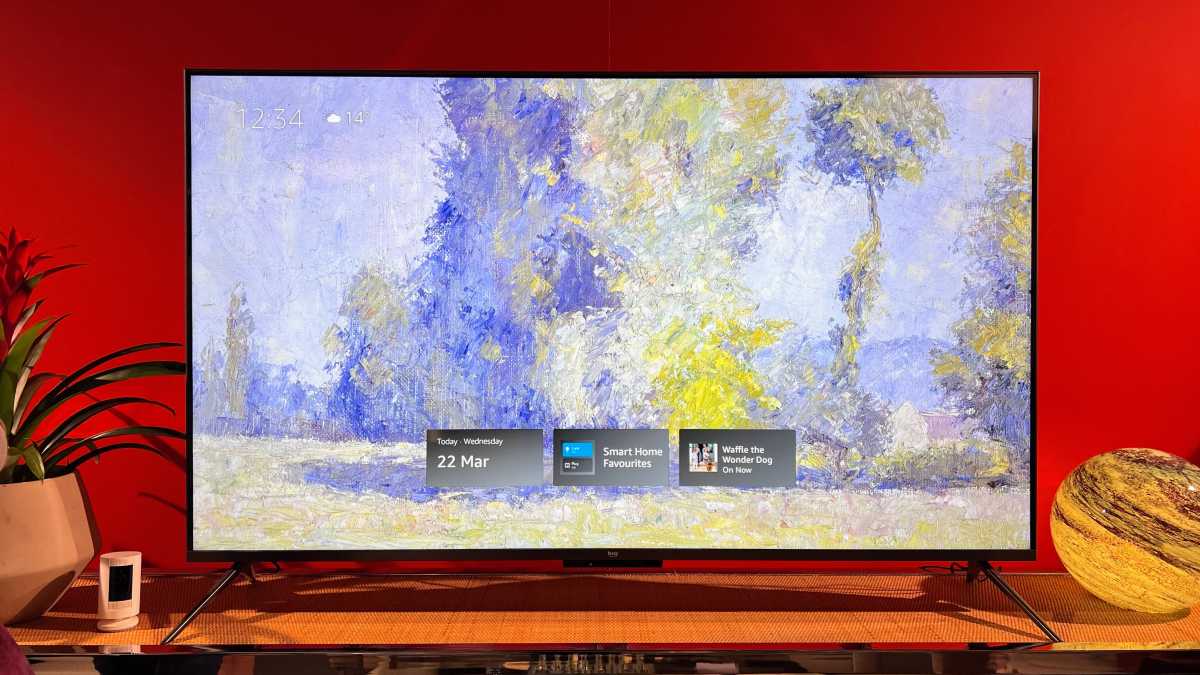 Jim Martin / Foundry
They also allow the TV to detect if anyone is in the room and either turn on or turn off what Amazon calls the Ambient Experience. It's actually an enlarged Echo Show interface that can display family photos from Amazon Photos, weather widgets, your calendar, entertainment recommendations, and more.
There's also a free library of approximately 1,700 exhibition-quality free art pieces that, like Samsung's Ambient Mode TVs, turn your big screen into a picture frame. Among them is a selection of works by local UK artists from galleries in Wales and Scotland. Alexa can tell you more about each part: it's not just an image.
The collection also includes slow-motion videos much like Apple TV screensavers and other "moving elements" like a cozy fireplace. There is one piece of "dynamic" art that changes subtly depending on things like local weather, wind speed, and time of day. Amazon says it plans to expand to include more dynamic elements.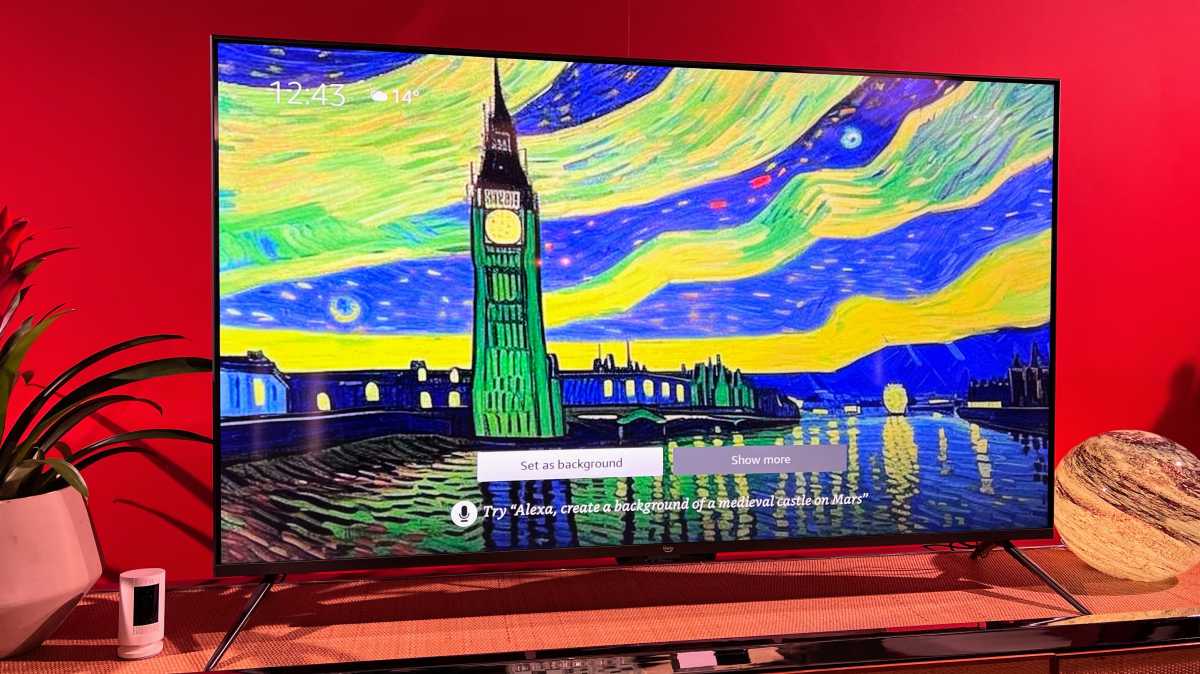 Jim Martin / Foundry
In the future, you will be able to create your own AI-powered artwork by asking Alexa for anything you can think of. Amazon demonstrated this by saying, "Alexa, create a backdrop showing the Northern Lights over Big Ben." There is no exact date for when this will be available, but the rep said it should be within a year.
You can control when Ambient Experience is displayed by using Quiet Hours and setting how long it should wait when you're not watching something on TV before it appears.
Of course, as with Fire TVs, you can also ask Alexa (on any of these TVs) to show the front door camera, set a timer, play music, and whatever else Alexa normally does.
Pre-Order Discounts
As in 2021, Amazon is offering "introductory discounts" which means you can save up to £300 through April 11th.
You can pre-order all models now on Amazon..
Similar stories
Source link