Health
First Person: A Safeguard Against COVID Misinformation |
Khadil Al-Zubi is a senior camp assistant working in two camps (Zaatari and Azraq) that house Syrians who fled their war-torn country. She told UN news how she fought COVID-19 misinformation that helped her overcome her indecision and the indecision of others about vaccinations.
"When coronavirus First blow, everyone feared this unknown pandemic. We didn't know what to expect, especially during the isolation period when many people started working remotely. As a frontline worker in refugee camps, I have supported over 300 vulnerable women every week.
I have seen the burden of childbirth gradually increase for them, especially for mothers. I was constantly worried that I could transmit the virus to women or get infected myself.
Lead by example
© UNICEF / Moises Saman
A Syrian refugee shows a 'V' sign for vaccination with her granddaughter after being vaccinated against COVID-19 at the Zaatari refugee camp.
It wasn't until 2021 that I felt relieved when the government announced that vaccines would be available. However, at first I was hesitant to get vaccinated.
There was so much misinformation spreading at that time. I started reading more about it, doing a little research. After one session organized by the office and WHOwhere the doctor explained the key scientific facts to us, I decided to make a vaccine.
My mom didn't want to take the vaccine because she heard that it would somehow affect her DNA. Misinformation circulated suggesting it could change a person's skin color or negatively affect the DNA of babies born to mothers who were vaccinated.
However, when my mom saw that I was being vaccinated, she asked me to register her on the platform as well. I have encouraged my family and our beneficiaries to accept the vaccine, serving as an example and support for their online registration.
After completing my two-way communication training, I feel like I now have access to the right tools and sources to fight fake news during this critical period. I share verified information on COVID-19 and vaccine through our WhatsApp groups with Syrian refugees registered with UN WomenOasis centers in refugee camps. They provide women with psychosocial support and livelihood opportunities to expand their economic opportunities through a range of projects, including training in sewing and hairdressing, and other educational and childcare opportunities.
Safe virtual space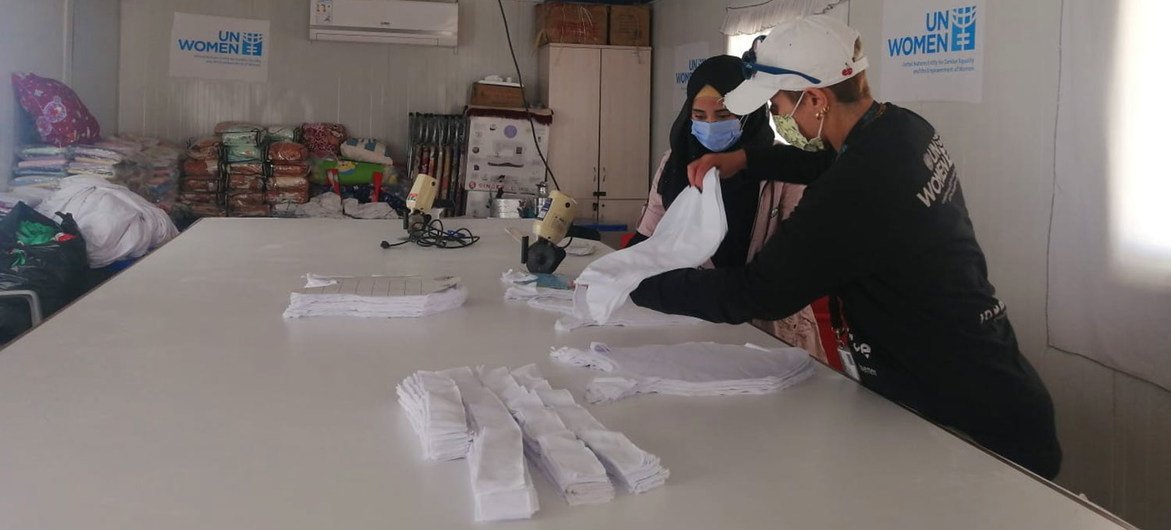 UN Women
Refugee women in Jordan are learning skills such as tailoring that can help them earn money and provide for their families.
Women's Centers are important as they also provide a safe virtual space for sharing correct pandemic information from trusted sources. They complemented the Ministry of Health's COVID-19 awareness campaign and our own communication materials.
The women I spoke with responded positively and asked many questions about the various vaccines available, possible side effects and what to expect after vaccination. I think they wanted to understand the facts and see how effective the vaccines are.
I usually tell the women I serve that the COVID-19 vaccine is like every other vaccine we take in our lifetime. Vaccination is the key to overcoming the pandemic, and we need to be aware of the fake news and misinformation spreading around us. Although I am less worried about the virus, I remain vigilant, respecting social distancing, wearing a mask and disinfecting my hands.
Source link