Health
COVID-19: Omicron BA.4 and BA.5 variants are not yet more severe or infectious |
Last week was the least COVID-19 deaths since the early days of the pandemic, but there are still "major spikes" in some countries that are putting pressure on hospitals.
"Our ability to track trends is compromised as the number of tests has dropped significantly," says the UN World Health Organization (WHO) told reporters in Geneva, the director.
Tedros Adhanom Ghebreyesus confirmed that faster testing and sequencing speed is vital for scientists keep track of existing options and identify new ones as they emerge.
"We are currently closely monitoring a number of Omicron sub-series including BA.2, BA.4 and BA.5, and another recombinant consisting of BA.1 and BA.2 has also been discovered," he said.
The latest sub-series BA.4 and BA.5 have been registered in a number of countries, including South Africa and some European countries, said WHO lead epidemiologist Dr Maria Van Kerkhove.
"Less than 200 sequences are available at the moment and we expect this to change… We are monitoring (the virus) very closely to see if there is any spike in case detections, but (for now) we have not seen any change in epidemiology or severity", she stressed.
© UNICEF/Mahmoud Al Filastini
Community workers in Yemen are raising awareness of the dangers of COVID-19 and the importance of vaccination.
We can't lose sight of the virus
WHO director of emergencies Michael Ryan warned that as the virus continues to evolve, the world "can't just afford to lose sight of it."
"At this point, it would be very short-sighted to assume that fewer cases mean absolutely low risks. We are glad to see that the death rate is decreasing, but this virus used to surprise us, it used to take us by surprise.
"We have to do our job and track this virus as best we can while people return to as normal as possible," explained Dr. Ryan.
Meanwhile, WHO Lead Scientist Dr Sumiya Swaminathan warned that sublines and recombinants will continue to emerge and the world must continue to invest in improved tools such as new vaccines.
"We must be prepared for the fact that this virus canthe change is so strong that it can bypass existing immunity", she said.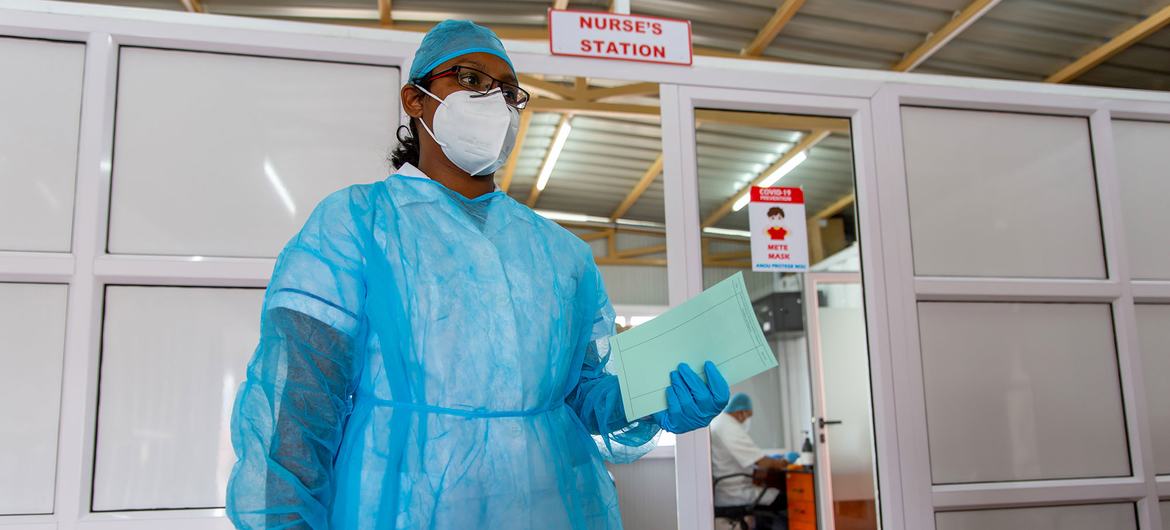 © UNDP Mauritius/Stefa Bellar
A healthcare worker in PPE at a COVID testing clinic in Mauritius.
Still an emergency
Tedros stressed that the virus remains deadly for the time being, especially for unprotected and unvaccinated people who do not have access to medical care and antiviral drugs.
"The best way to protect yourself is to get vaccinated and boosted when recommended. Continue to wear masks, especially in crowded areas. And indoors, keep the air fresh by opening windows and doors and invest in good ventilation," he urged.
This week, the International Health Regulations Emergency Committee, which is assessing the global state of the COVID-19 situation, unanimously agreed that the pandemic remains a public health emergency of international concern.
"This is far from the time to let down our guard, now is the time to work even harder to save lives," Tedros said, referring to the committee's decision.
The head of the WHO said that this means ensuring an equitable distribution of funds to combat COVID-19 and at the same time strengthening health systems.
"Overcoming the vaccine shortage is the best way to increase the immunity of the population and protect against future waves," he stressed.
He also stressed the need for a new pandemic treaty.
"The new pandemic agreement is our best collective defense against known viruses and, of course, the next X disease."
Source link