Gaming
Teenage Mutant Ninja Turtles: Shredder's Revenge is out on physical media today
After playing Teenage Mutant Ninja Turtles: Shredder's Revenge non-stop for the past month, you might think we've exhausted our excitement, but today's physical release has us itching to buy the game again.
Shredder's Revenge is now available in two physical formats: Standard and Special. The first of these is what you'd expect from a release called "standard", although those who buy it will receive a 24-page game manual and a hot pizza key ring along with a physical copy of the game.
While you'll have to shell out a little more money to do so, any overconfident TMNT fan will want to pick up the special edition while they can. Containing everything the standard copy offers, the Special Edition adds (deep breath) a randomly selected Teenage Mutant Ninja Turtle mask, game soundtrack CD, original trinkets and pins, a metal manhole cover, a coffee stand, and part of a limited edition numbered piece. .
As if that wasn't enough, those who receive this huge collection will receive their copy of the game in a brand new envelope with original artwork. Take a look at the image below to see these add-ons in action.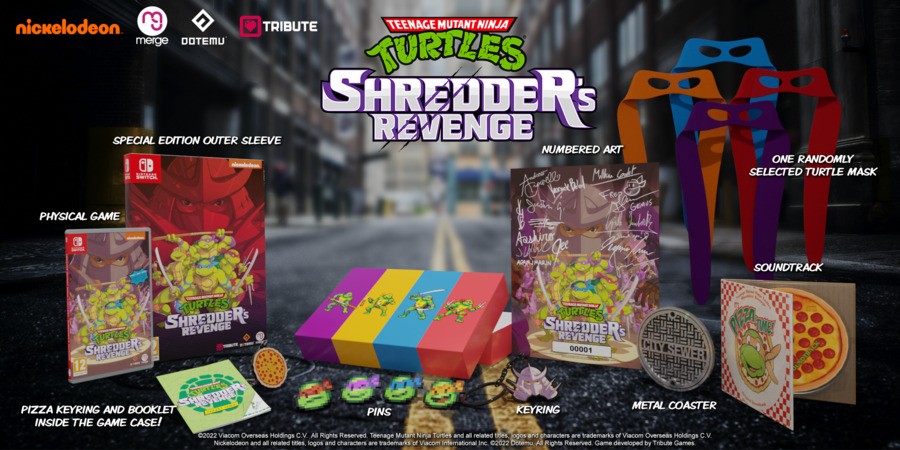 The Standard Edition is now on sale on Switch for £34.99, while the Special Edition is £59.99.
As big fans of physical media, we can't wait to get our hands on a copy of this game and start playing it again with a randomly selected ninja headband this time around (please be Donnie, please be Donnie…)
If you're interested in learning more about Teenage Mutant Ninja Turtles: Shredder's Revenge, why not check out our glowing review, in which we stated that the game is "the best scrollable beat'em up Turtles".
Are you going to try and get a physical release later? Let us know which turtle you're playing as this time downstairs!