Gaming
Such Imamura – The Man Who Named the Mask of Majora and Created the Coolest Nintendo Characters
Over the holidays, we are re-posting some of our best articles, interviews, opinions, and talking points from the previous 12 months. from both employees and participants – Articles that we think represent our best of 2021. In them you will find our usual mixture of thoughtfulness, frivolity and retro. expertise, nostalgia for games and, of course, enthusiasm for everything related to Nintendo. Enjoy!
---
On January 20, 2021, Nintendo artist, designer, producer and director Takaya Imamura posted a message his first tweet announcing that he was leaving the company after thirty-two years. Imamura isn't retiring – just 54 – but his departure heralds the end of Nintendo's impressive career spanning the 16-bit pre-Switch era.
While mascots like Mario and Link can do the hard work in Nintendo's PR department, Imamura has brought some of Nintendo's most beloved characters into the Nintendo canon, including Fox McCloud, Captain Falcon, and the beloved 35-year-old. fairy wannabe, Zelda from Tingle.
Imamura's First Project, SNES Racing Game with Enhanced 7 Mode and Game Launch F-Zerowas immediately challenged when he joined Nintendo in the early twenties in 1989. He created vehicles for the game that originally had wheels before the team switched to a floating ship and a futuristic setting inspired by Tim Burton's blockbuster. Batman, the film that opened the modern comic book film template during the development of F-Zero and its main console.
When the game itself was completed, Imamura turned his attention to creating characters for use on packaging and promotional materials. As detailed in interview about F-Zero During the launch of the Super NES Classic Mini, Imamura revealed that Captain Falcon began life as a potential mascot for the SNES console itself:
He was originally the captain of Something-or-Other, but we started talking about what to do with the F-ZERO packaging and I tried to draw something like an American comic book.
The idea quickly gained traction after Nintendo of America reacted positively to the comic book idea, and it was eventually included in the game manual, and Imamura's character design and layout influenced the look and style of subsequent articles in the series, despite the fact that they weren't featured in the original game at all. In those days, of course, players were much more likely to skim guides for instructions, plot, and character details not featured in the game itself. There is anything new in a gaming case other than a cart – and even that is not guaranteed.
It just so happened that Captain Falcon and a ragtag gang of aggressive racers felt like an integral part of the spirit of F-Zero without actually participating in the game.
After F-Zero, Imamura helped on Link to the past before creating characters for Star fox… At the suggestion of Shigeru Miyamoto, he began drawing animal characters and drew inspiration from Japanese folk tales for most of the cast. The four team members themselves at the time were Nintendo employees, as he explained in interview discussion Star Fox 2:
Fox has a fox-like face like Miyamoto … Falco is Watanabe. At the time, we laughed at the fact that his nose was sticking out like a beak! … Director Katsuya Eguchi has a mouth like a hare, so he became a hare, Peppy. Planner Yoichi Yamada has big round eyes, which is why he became a Slippery Toad.
Without immediately naming the antagonist model of Lord Andross, Imamura hinted that he might have drawn inspiration from then-Nintendo President Hiroshi Yamauchi's infamous hot temper:
Imamura: And the villain Andross … I mustn't speak. (laughs)

Miyamoto: Yes, you can't say that! (laughs)

Imamura: (softly) Andross is my boss at the time. (laughs)
After working on Stunt Race Effect and Star Fox 64 (who repurposed many of the designs and ideas that went into the as-yet-to-be-released Star Fox 2), Imamura returned to the F-Zero universe as Chief Designer (and Course Designer) at F-Zero Xwhere are his characters would figure prominently in the game.
After work on F-Zero X was completed, Imamura took over as art director. The Legend of Zelda: Majora's Mask… He oversaw the sequel's noticeably darker tone and not only created the recurring character of Tingle, but was also responsible for the title of the game itself. According to the director of the series, Eiji Aonuma, it was Imamura who came up with the name of the title mask (Mujura in Japanese), mixing his name with the film title of Robin Williams, Jumanji…
As unusual as the quirky character was when he debuted ("especially in the US" for some reason, according to Kensuke Tanabe of Nintendo), Tingle has since acquired a cult following, and since then, this character has appeared (or mentioned) in almost every Zelda game. He even starred in his own games, starting in Europe and Japan. Tingle's Freshly Picked Pink Rupees…
Described by Tanabe as "a middle-aged guy who dreams of becoming a fairy," Tingle appears to have been "created in a very relaxed manner thanks to [Imamura]"which has always struck us as a kind of phrase – perhaps made strange by the translation – but one that fits well with Imamura's unconventional nature. We crossed our fingers to see Tingle himself return to Breath of the Wild 2 (and not just his outfit in Breath of the wild).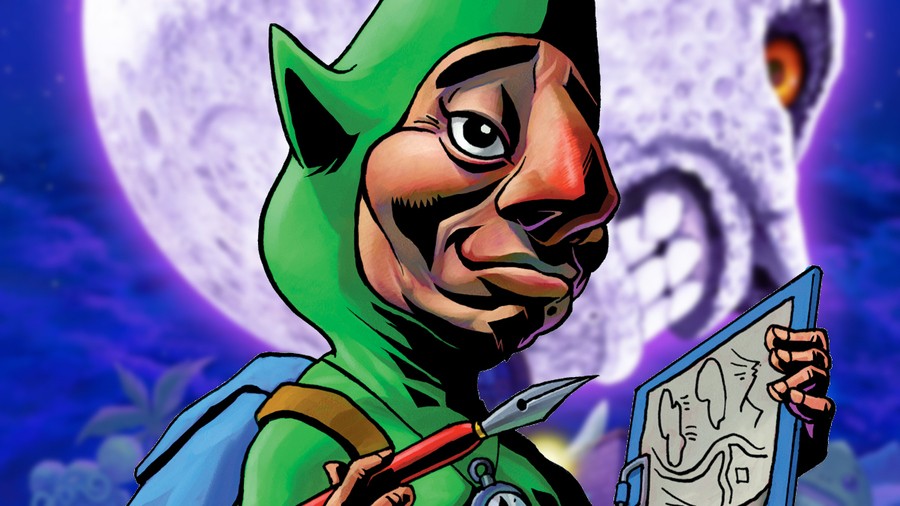 Since the turn of the millennium and his last major involvement with the Legend of Zelda series, Imamura has mainly focused on control of the recordings in the franchises he helped develop from the ground up: the F-Zero series (which has been AWOL since 2004). F-Zero climaxunfortunately) and Star Fox games. Most recently, he has participated in some pretty good Star Fox content included in the Switch version of Ubisoft. Starlink: Battle for the Atlas…
Elsewhere, he worked as the director of two small projects. Steel diver for the 3DS was the name of the sub, evolved from the DS technical demonstration (apparently assigned to Imamura Miyamoto for his experience in developing vehicle games). AND Tankers it was a fun, relatively simple small local multiplayer tank battle game (yes, more vehicles) that could be found in the 3DS eShop.
After working for more than thirty years at Nintendo, it is clear that Takaya Imamura has left indelible fingerprints on some of the company's most outstanding achievements. As specific fans of F-Zero games, it is sobering to think that a new installment in the series, which should arrive at some point in the next decade or two, certainly! – may well not include his direct design input. Hopefully we'll hear a lot more from him in the future as he looks for opportunities outside of Nintendo's Kyoto headquarters.
Regardless of his plans for the future, Imamura's contributions to Nintendo's games and cast make him one of the most important and influential people in the company's history, with a legacy of art and design that we'll enjoy for decades to come. During the above F-Zero discussion, he joked about his accomplishments early in his career at Nintendo:
For a guy in his first year at the company, I did a pretty good job, didn't I?
We couldn't agree more.