Gaming
Nintendo's share price has fallen since the latest financial report
Nintendo's share price on the Tokyo Stock Exchange fell after yesterday's financial report for the third quarter of fiscal year 2023 (via VGK). The company's price is down about 7% from yesterday's report and is currently at 5,226 yen, down from 5,624 yen, at the time of writing.
That drop didn't come as much of a surprise due to the company's slightly disappointing results when Nintendo revealed it was cutting sales forecasts after declining year-over-year hardware and software sales. Aside from lowering its year-end Switch sales forecast from 19 million to 18 million, Nintendo is still tight-lipped about a successor, despite the console being in its seventh year on the market.
Big N has already lowered its expectations for Switch sales in the latest quarter, with the company lowering its forecast from 21 million to 19 million. If Switch sales can reach the new estimate of 18 million, that means Switch hardware sales will decline for two years in a row.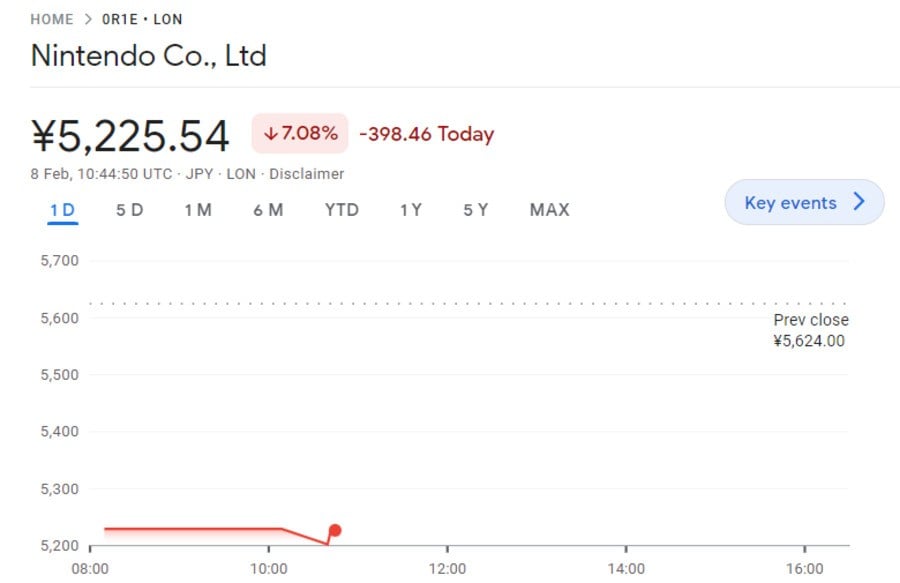 This may seem like a dark read, but there is something good about it all. Nintendo is raising the pay of Japanese employees by 10% despite falling sales, and digital sales now account for nearly half of console game sales. Digital sales are also up 21.5% year on year, meaning that Nintendo is doing well with its existing user base.
If that wasn't enough, we've got a Nintendo Direct we're looking forward to today, which should bring with it a healthy dose of upcoming Switch gaming news, including (hopefully) the best look at Zelda: Tears of the Kingdom, which is Nintendo's flagship game on the first half of 2023.