Gaming
Here's a first look at the NieR: Automata Physical Switch release, pre-order now
One of the highlights of the latest Nintendo Direct Mini: Partner Showcase was the announcement that NieR: Automata The End of YoRHa Edition is coming to Switch on October 6th.
If you're wondering if this game will also be released on physical media, Square Enix has officially confirmed the bundled version on their official website. This version will include a "full game", a double-sided Kazuma Code and DLC for three costumes.
Here's the full rundown (via Square Enix website):
The Nintendo Switch version of the game includes the award-winning original game with all its twists and turns, different endings, thrilling battles and a sense of nihilistic wonder.
Also included is DLC content 3C3C1D119440927, which includes three challenging colosseums, with some awesome bosses and additional NieR Replicant-inspired costumes.
When the game launches, you'll also be able to download the free DLC 6C2P4A118680823, which features a variety of cosmetic items, including six costumes and four accessories. It also includes two pod skins based on characters from the popular mobile game NieR Re.[in]carnation.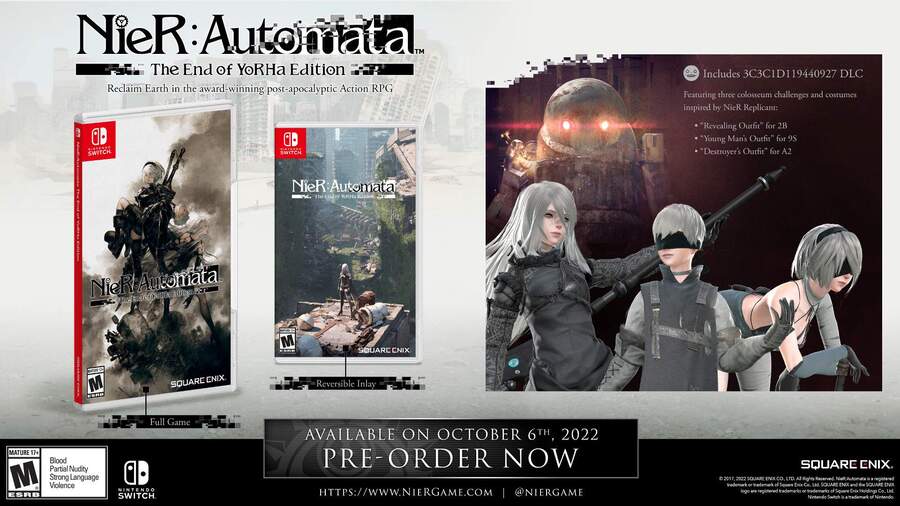 Pre-orders are now available in the US and across Europe – it will cost you more. $39.99 / £34.99 or your regional equivalent. The digital version also costs $39.99 / £34.99.
Will you be buying the physical version of NieR: Automata for Switch? Leave a comment below.