Gaming
Eight Awesome Switch Games From Nintendo Life Indie Spotlight
Today we hosted the second edition of the Nintendo Life Indie Spotlight, featuring eight exciting games for the Nintendo Switch. Participants included action-packed platformer, shooting, puzzle solving and monster battles, and much more.
You can revisit the show above if you have 12 minutes free for some of the indie virtues, and if you prefer the words below, these are our summaries for each title chosen.
Toree 2 – Out Now
Originally planned as a fun surprise, the eShop's logistics meant this one had appeared in the store before. Well, we were still very excited to open the show with this old-school 3D platformer. His predecessor Tori 3D there was word of mouth and this sequel offers an even more sophisticated take on the format. Oh, and it's worth a dollar, so it's OK worth a punt.
Fading noon (PC for the first time in 2022)
This is the latest game from developer Yeo who brought us Ringo Ishikawa's friends and The arrest of the stone Buddha… Recently released from prison, in "The Day Fails," you take on the role of Seiji Maruyama, a yakuza better known as "Gozuki." He's starting to age, so you may have trouble meeting your oyabun's expectations. Mix the sophisticated beat-em-up genre with Osaka's daily life.
Exophobia (April 2022)
When you wake up in a huge spaceship teeming with aliens, you need to be careful not to become an unnecessary victim. Upgrade your alien arsenal and use quick-witted and even faster reflexes against unforgiving alien hordes to give yourself even the slightest chance of survival. When it arrives on Switch, it will offer stylish action shots with a retro look.
Die by the blade
When every potential blow can be fatal, you need to use more tactics than brute force. In Die by the Blade, one wrong move can give your opponent the ability to knock you down with a single blow of his blade. Fight online, but stay calm and exploit any weaknesses your opponent can show as they will no doubt try to do the same to you.
Shovel Knight Pocket Dungeon – Winter
Enter an ever-changing dungeon where your every move is part of the puzzle. You will learn ropes from your good buddy Puzzle Knight as you try to escape the mysterious Pocket Dungeon. Meet opponents to fight and exchange damage in this unique combat system. Group them together for massive chain attacks, grabbing keys, bonuses and potions to replenish your health. It looks like a fun alternative to the popular IP.
Captain
Put on your uniform, captain! You are lost on the other bleeding side of the galaxy! Even worse, dark forces are coming to Earth, and by the will of fate, it is you who hold in your hands what can stop them and save humanity. Of course, you will need to find allies, but it is likely that not everyone will make it to the end, and it is up to you to decide who is left behind.
No longer human
In No Longer Human, you take control of the once famous Vocaloid idol and now the Cyberdemon Tsunono, and you will have to lead her on a destructive path to complete world domination. With its psychedelic cybergothic aesthetic, free-form combat encourages and rewards aggressive and stylish play.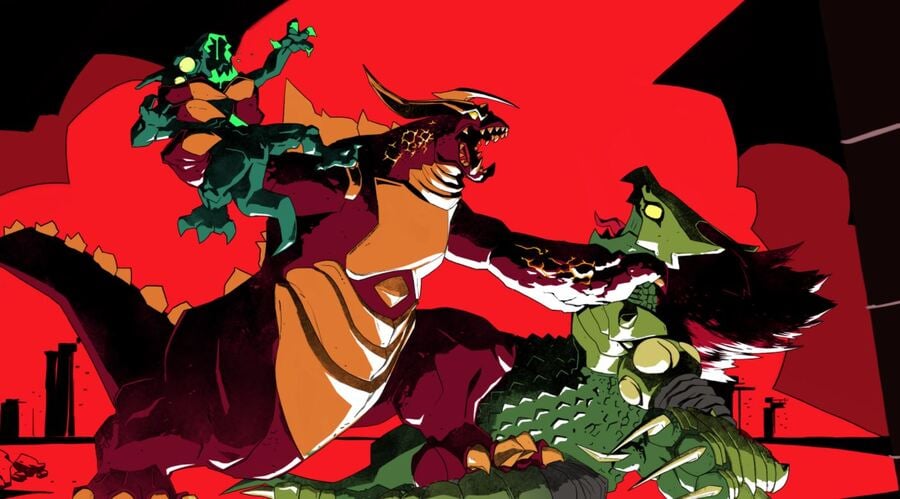 Dawn of the Monsters
Developed by 13AM Games and published by WayForward, this might be the monster fighting game we've been waiting for on Switch. Free your inner kaiju by fighting the evil horde of Nephilim; creatures who want nothing less than to destroy the planet. With gorgeous 2.5D graphics inspired by Mike Mignola and deep combat mechanics that rival fighting games, this game is an explosion in its own right, but a brand new monster in couch co-op.
---
Thanks for watching our Indie Spotlight! Let us know which games you like in the comments!