Gaming
Digital sales account for nearly half of Switch software sales in fiscal 2023
Nintendo has released its financial earnings report for the third quarter of fiscal year 2023 confirming that the Nintendo Switch has now outsold the Game Boy and PlayStation 4 with over 120 million units sold.
In addition, the company also confirmed that Switch digital sales grew by 21.5% in FY 2023 compared to FY 2022, generating a staggering 310.0 billion yen. Not only that, but the overall share of digital sales compared to total software sales was 46%, meaning that nearly half of all software sales in FY 2023 have so far been digital.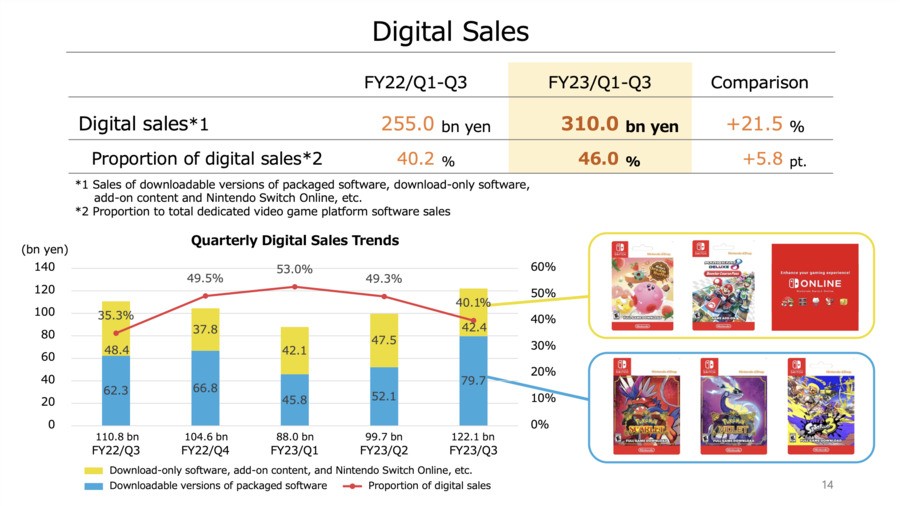 Digital sales increased significantly during the third quarter with the launch of Splatoon 3 and Pokémon Scarlet and Violet, pushing bundled software downloads to nearly 80.0 billion yen. Sales of Nintendo Switch Online and the Mario Kart 8 Deluxe Booster Course Pass also helped maintain strong digital sales in the fiscal year.
Obviously we still have a couple of months to go before the end of the fiscal year, so the numbers could be anything, but things are looking pretty solid for the Nintendo Switch despite the overall decline in hardware and software sales for the year. We hope it maintains its success throughout 2023 and beyond!