Gaming
Box Art Brawl: Duel – Harvest Moon: A Wonderful Life
Hi all; Welcome to another edition of Box Art Brawl!
It's kind of crazy that another week has already passed, right..? Where does the time go?! No matter.
Last week we took a look at one of the greatest games on the SNES: Mega Man X. It was pretty darn close too! Europe and North America teamed up to take on Japan and this duo simply managed to take the crown with 53% of the vote. Both designs are fantastic, so we're not really surprised that you guys are a little disappointed with this one.
This week, in honor of the recent announcement of Story of Seasons: A Wonderful Life, we're taking a look at the original GameCube release from 2003 (2004 for Western audiences): Harvest Moon: A Wonderful Life. For many (this author included!) The Wonderful Life became a gateway to the world of Harvest Moon, where you could see the beautiful and peaceful setting of Forget-Me-Not, as well as a number of characters who lived at that time. minds of fans over the years.
This week in Box Art Brawl, Europe and North America will unite again due to the huge similarity between box designs in different regions, so Japan will be alone! We think it might be close again this week, but as always, the winner will be decided by you great people.
Be sure to vote in the poll below; but first let's look at the design of the box itself.
North America/Europe

The North American and European design of A Wonderful Life is probably what you are most familiar with. The regional designs are all very similar in composition – the game's protagonist stands triumphantly in the center, surrounded by a group of animals and fellow villagers – but what distinguishes the Western designs is the inclusion of a full background (similar but not identical in the two examples above), presumably the action taking place somewhere in the Forget-Me-Not Valley.
This is a very peaceful piece of art; definitely indicates what kind of experience you will have with A Wonderful Life.
Japan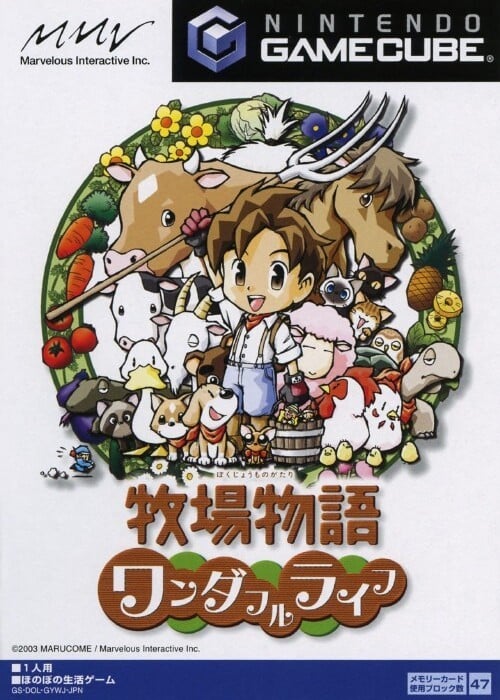 The Japanese design of The Wonderful Life is again similar in composition, but the protagonist and the animals are surrounded by a large wreath of flowers and vegetables; an indication of what you will be planting during your life on the farm. We have to admit that despite the lack of a background, we actually prefer a more flamboyant, stylized approach to the protagonist and animals; nicely! It will be hard, of course…
Bonus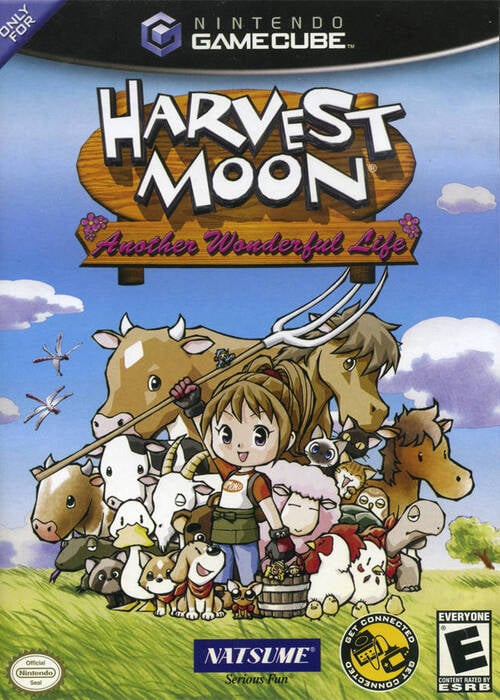 Harvest Moon: Another Wonderful Life launched in 2005 and featured the same gameplay and structure as the original version. Differences? You play as a girl, not a boy, and your love interests are also gender-swapped. Was it necessary? Mmm, maybe not, but it might have introduced a few more people to the series nonetheless.
The box art itself is a combination of previous drawings from The Wonderful Life. Animals from Japanese box art were brought right into this one, but he also took a leaf from Western box art design and decided to include the background again. In general, this is a good approach; sort of take the best of both worlds!
---
Thank you for participating in Box Art Brawl once again! Don't forget to cast your vote below and let us know in the comments which box art you prefer!
Thanks for voting! See you next time for another round of Box Art Brawl.